Welcome to the Osher Lifelong Learning Institute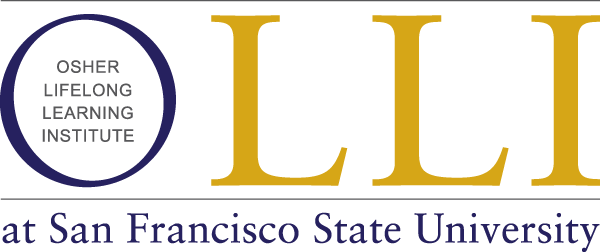 Contact us: olli@sfsu.edu
OLLI SF State is a community
of inquiring adults, age 50+, who believe in lifelong learning, engagement, and exploration. Look around and learn more our courses, interest groups, lectures, and more.
Already an OLLI Member?
Just click the button below to log in and register for your courses.
Interested in Joining OLLI?
Find out more about our membership costs and start enjoying courses today.
Be Part of a Community
At the Osher Lifelong Learning Institute, our members become part of a network that builds the kinds of relationships that define an exclusive, vibrant and engaged learning community.
Meet new friends who share your interests. And when it's safe to gather in person again, OLLI trips are perfect to broaden your horizons.
Celebrated and proudly run by OLLI members, Vistas & Byways Literary Review is where you can discover and contribute fiction, nonfiction, poetry, and visual arts.
Support OLLI
Your gift to the institute is an investment that will help propel our success today — and in the future.
"I often think about how interwoven OLLI has become in my life. Many of my core friends were developed through OLLI. The structure of my retirement days light up with enjoyable and worthwhile learning opportunities, as well as mingling with other life-long learners."
We're conveniently located!
When we can meet in person again, OLLI is convenient and accessible. Most classes take place at our classrooms within the centrally-located San Francisco Westfield Centre. While some classes and lectures are held at SF State's main campus on Holloway Avenue.