Welcome to the Osher Lifelong Learning Institute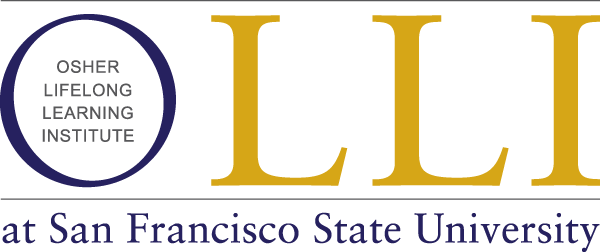 Join us for online courses and a new free speaker series!
Visit our Course Catalog to learn more.
**Online Class Participants** For each online class you will receive a Zoom invitation via email a couple of days before the class.
If you are experiencing any issues accessing your class via Zoom, please contact us at olli@sfsu.edu.
Explore what we have to offer
Dig into current courses with video intros, straight from our instructors. Explore our Lifelong Learning community, groups, outings, lectures, and more.
Already an OLLI Member?
Just click the button below to log in and register for your courses.
Interested in Joining OLLI?
Find out more about our membership costs and start enjoying courses today.
Be Part of a Community
At the Osher Lifelong Learning Institute, our members become part of a network that builds the kinds of relationships that define an exclusive, vibrant and engaged learning community.
Join OLLI trips, social groups, and special interest groups to meet new people and broaden your horizons.
Volunteers are the heartbeat of OLLI. All members are encouraged to help plan or lead our great programs.
Discover and contribute fiction, nonfiction, poetry, and visual arts through Vistas & Byways Literary Review.
Support OLLI
Your gift to the institute is an investment that will help propel our success today — and in the future.
"I often think about how interwoven OLLI has become in my life. Many of my core friends were developed through OLLI. The structure of my retirement days light up with enjoyable and worthwhile learning opportunities, as well as mingling with other life-long learners."
We're conveniently located!
With most classes centrally located in downtown San Francisco at the Westfield Centre, as well as SF State's main campus, OLLI is both convenient and accessible for our members.