You all deserve a big thank you from a strong supporter of OLLI. Please continue your truly interesting program and your professional style - timely, supportive, accurate, positive.

— Pam Engel, OLLI Member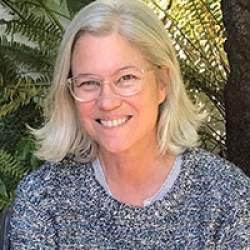 Kathy Bruin, Director
Kathy is an experienced program manager who joined as Executive Director in 2019. Her immediate enthusiasm and responsiveness to the needs of the organization led to an increase in membership and profitability. Prior to OLLI, she helped launch the Center for Iranian Diaspora Studies at San Francisco State. Strongly committed to an excellent member experience, Kathy supported more than 700 members and 500 guests annually as Operations Manager at the Impact Hub. In that position she oversaw day-to-day processes of the 20,000 sq ft co-working space between 2012-2015. A project manager for over 25 years, Kathy has supervised magazine production, events and conferences ranging from 70-1700 attendees.
In 1995 Kathy founded About-Face, a media literacy campaign that continues to educate about the impact of media on female body image and equip girls and young women with media literary skills. In 2004 in her capacity with About-Face she was "punked" on a spoof debate show on Comedy Central called Crossballs.
Kathy enjoys live theater, the San Francisco Botanical Gardens, and hearing about the subjects her son is learning in college.
You are doing a phenomenal job of providing leadership to OLLI. I am grateful for your service.

— Synthia Marie, OLLI Member
Hands down--You are the best. The best. Thank you!

— Amy Benedicty, OLLI Member
Email: kathybruin@sfsu.edu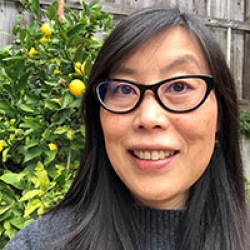 Lena Chiu, Program Assistant
Lena joined OLLI in January 2020. For over two decades, her graphic design career has kept her busy working with clients in high tech, education, food, medicine, fundraising. Lena is a firm believer in lifelong learning and feels privileged to help support the program and the community at OLLI SF State.
When not in front of her computer, Lena can be found hunching over her plants making sure they're thriving, perusing food blogs for exciting new ways to make a mess in the kitchen, outside attempting some exercise, reading or enjoying a snack. At this writing, the world is in the middle of a pandemic. Lena misses seeing movies in a crowded theater, hugging friends, going out to lunch, and is looking forward to being able to do all of that again very soon.
Lena is the best - superbly poised, cheerful, thorough, and reassuring.

— Douglas Kenning, OLLI Instructor
Email: helenachiu@sfsu.edu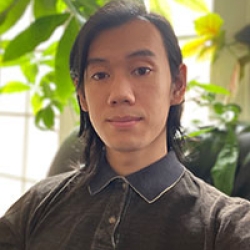 Nicholas Nguyen, Program Assistant
Nick is a Bay Area native and a graduate of SF State's Cinema Studies program. In addition to his position at OLLI, he also works as an assistant at the Center for Iranian Diaspora Studies. Nick began working with OLLI in September 2020.
The real key to my success teaching a virtual class has been Nicholas. He is amazing. Did two rehearsals with me, keeps everything running smoothly during class. But even better, he is seeing the outside films, recommending materials such as an amazing essay on Gone with the Wind, discussing how the course is going. He is like the world's best Teaching Assistant. Amazing.

— Mary Scott, OLLI Instructor
Email: daftfunk@sfsu.edu