The Hal Wanaselja Memorial Fund
Through the generosity of Maryalice Reinmuller, in loving memory of her husband Hal Wanaselja, fee assistance is available for OLLI classes throughout the year through an application process.
See guidelines and application.
Hal Wanaselja was a life-long learner. His family home was on then-rural, Staten Island, NY where the family property line ran close to the local railroad tracks. He was fascinated by rail travel and it became his vocation and avocation and enabled him to travel the world. The youngest of six children of Estonian immigrants, music, art, education, and living history were part of his heritage. We are grateful for Maryalice's support in honor of Hal's love of OLLI; the classes, teachers, and classmates who challenged him to think, question and laugh.
Please email olli@sfsu.edu or call (415) 817-4243 for more information on how to be considered for fee assistance.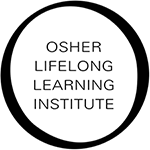 Funding provided in part by
The Bernard Osher Foundation
Contact Us
Email: olli@sfsu.edu
Campus Locations
Get our Newsletter!
The documents on this website/webpage might not be fully accessible to persons with disabilities. We are working to fix these accessibility barriers by June 15, 2022. If you experience difficulty in accessing this content, please contact olli@sfsu.edu and we will provide you with accessible alternatives.